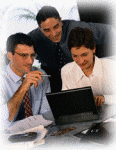 iTeam
Freund-Vector has put the power of the Internet to work for you, the most important member of our project team. With Freund-Vector's iTeam system your project information is right at your fingertips and collaboration is just a click away.
Track your project from order entry through product shipment.
With iTeam, you become a member of the Freund-Vector Project Team.
Stay up to date on the status of your order.
Communicate with project managers on design issues and questions to speed the process.
Gaining access is as easy as logging into iTeam with your secure login name and password.
We welcome you to the iTeam!
If you need help accessing iTeam - click here to download instructions .